An Imperial Affliction
Comments

111
13pages on
this wiki
An Imperial Affliction
(by Peter Van Houten) is a
fictional
book
in John Green's
The Fault in Our Stars
. It is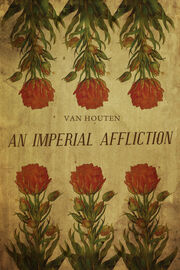 Hazel Grace Lancaster's favorite book.
An Imperial Affliction
 is about a girl named Anna who has a rare blood cancer. Set in the lower middle class of a central California town, Anna narrates her life with cancer. Despite and in spite of her cancer Anna creates a charity called The Anna Foundation for People with Cancer Who Want to Cure Cholera. The author, Peter Van Houten, is a reclusive, anti-social alcoholic who treats his assistant Lidewij (Along with Hazel and Augstus) disrespectfully to the point where she resigns. At the end, he tells Hazel that the book was based on his daughter, he then tells her that she was a lot like Anna. The book was never truely finished as the girl who narrates it, Anna, dies or becomes too sick to write again. The book, in fact, is truly made up by John Green. 
Role in the Story
Edit
The book pulls the two characters together and the refer to quotes in An Imperial Affliction often. Their shared love of the book also is what brings them to Amsterdam and to meet Peter Van Houten, the author of An Imperial Affliction.
Related Real-World Works
Edit
Green's The Fault in Our Stars is itself a book similar to An Imperial Affliction, as it is about a girl who has cancer.
John Green has also stated that it is a mix of two of his favorite books, 'Infinite Jest' and 'The Blood Lamb'.
Referencences
Edit
Green, John. The Fault in Our Stars. New York: Penguin Group, 2012.